GPX Tracker for iPhone, iPod & iPad
Open GPX Tracker app for iOS devices allows you to create GPX files. Track your location, add waypoints and easily share them. No time restrictions, no ads, no in-app-purchases. Open GPX tracker is an open source app.
Open GPX Tracker is ideal for:
Main Features
Displays tracking information in a map
Displays current speed, distance and tracked time.
Supports multiple map sources (Apple Maps, OpenStreetMap and CartoDB)
Pause / Resume tracking
Add waypoint to user location
Add waypoint to any place in the map with a long press
Edit waypoint name
Drag & Drop waypoint pin
Remove waypoints
Share your tracks with Airdrop, iCloud, Dropbox, Google Drive.
Load on map a saved session and continue tracking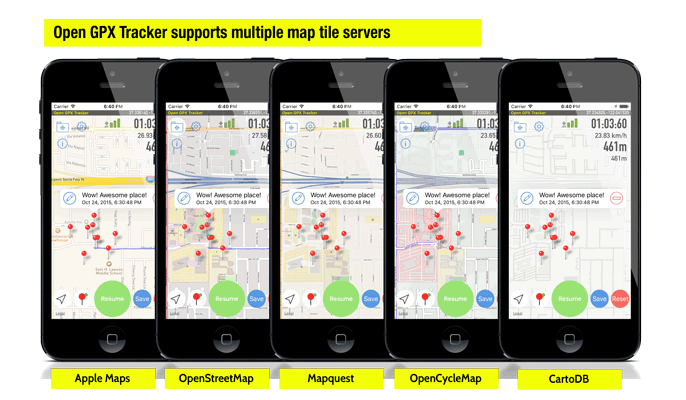 License
The source code of this app is distributed under the following license:
Open GPX Tracker app for iOS. Copyright (C) 2014-2015 Juan M. Merlos (@merlos)
This program is free software: you can redistribute it and/or modify it under the terms of the GNU General Public License as published by the Free Software Foundation, either version 3 of the License, or (at your option) any later version.
This program is distributed in the hope that it will be useful, but WITHOUT ANY WARRANTY; without even the implied warranty of MERCHANTABILITY or FITNESS FOR A PARTICULAR PURPOSE. See the GNU General Public License for more details.
You should have received a copy of the GNU General Public License along with this program. If not, see http://www.gnu.org/licenses/.